The Distant Path over 150 Years
from the Late Edo Period
for the Beauty of Women
Message
Since its foundation in 1865, Kazurasei has been offering classical hair goods for women, such as camellia oil and boxwood combs, Tsugegushi, both for keeping the hair beauty, and ornamental hair accessories, Kanzashi, for adding to the charm of the hair in finely up do.
Through changing times, those products fusing traditional elegance and modernity have been created by our unique sense and skills.
6th Evangelist
Products
The Golden Bounty of Nature
Kazurasei Original Camellia Oil
Kazurasei original camellia oil, made only from carefully selected seeds and extracted with our unique manufacturing process in the Goto Islands of Kyusyu where is full of nature, is the truly bounty of nature itself.
Camellia oil has been loved as a versatile oil that can be used for an entire body such as hair, scalp, face and skin. It contains as much as 85% oleic acid which is a natural moisturizing substance extremely similar to the lipid composition of our human skin, and has an effect on leading the skin to healthy state while replenishing the deficient components. Oleic acid is the most difficult to oxidize among many fatty acids, so you can rest assured that it is safe to use every morning and night.
Kazurasei hair and skin care products made with the original camellia oil are enshrining the natural power and taking advantage of the nature, of camellia oil, which is highly effective in moisturizing.
The rich nutrients penetrate into your hair and skin deeply, and make them radiant and lively from within. You can feel the power of nature which is special to 100 % pure camellia oil.
Kazurasei Is Careful
in Ingredients and Our Method
Excessive skincare routine can cause stress in your busy life.
Our steps are so quick and simple.
Even so, the reason you can feel effects and values in continuing use of our products is that we actualized a well-balanced fusion of our strict selection of ingredients, our original method harmonizing and bringing out the best of the raw materials, and also a power of latest technologies.
We are producing effective products, day by day, that are gentle to human body and environment based on our policy of making active use of organic herbs and natural ingredients.
Urushi Lacquer combs and Kanzashi with traditional
Japanese decorations, Raden and Makie.
Our Urushi lacquer combs and Kanzashi, ornamental hairpins, are designed with Kazurasei's distinctive motifs, such as season's transience of "Linpa-moyo" (patterns created by a group of Korin Ogata who was a famous Japanese painter in Edo period), elegant ancient patterns of court culture and auspicious patterns. Those motifs are expressed with "Makie"(sprinkled design with 24 karat gold or platinum powder) and "Raden"(mother-of-pearl inlay) shines in rainbow colors, applied on the lacquered grounds painted in mellow and high gloss black, deep dark brown called "Tameiro," or vermilion.
Our lacquer works are all hand made by skillful artisans with traditional techniques at our lacquer workshop in Kaga city, Ishikawa prefecture. It takes about 3-4 months to complete the whole process to make one piece beginning with creating the wooden base, and repeating to cover it with lacquer and grind the surface for several times before applying Makie decorations which is the final step.
Created with our motto of "beautiful to see in your hands and beautiful to ware in your hair," Kazurasei's corms and Kanzashi are exquisite pieces of work that are "Iki" (Japanese aesthetic ideal signifies "cool") but elegant and high quality that you can feel.
Chirimen Silk Crepe Hair Ornament
-elegant and beautiful fabric feels
extremely soft like a skin
Luxuriant colors of the ancient Manyo which were expressed in the oldest collection of Japanese poetry and colors of Dynasty Era where classical Japanese court culture blossomed. Furthermore, elegant colors of Kyo and colors of Gion… We create hair ornaments of Chirimen Silk Crepe dying in those graceful ancient colors of Japan with traditional techniques that cannot be imitated by anyone.
The designs of our Chirimen silk crepe hair ornaments are wonderfully matched to ladies of all ages in both classic and modern way on any special occasions, such as for celebration of a coming-of-age ceremony, weddings, and Japanese tea ceremony, or even for just going out.
Find Pleasure in Exquisite Harmony of Both Oriental and European Antiques.
A quiet and peaceful area close to the Kyoto Imperial Place.
Kazurasei Teramachi Shop, located at Teramachi-street where many antique shops are standing side by side, opened in the spring 2000. Pleasant sunlight is coming into the undressed concrete interior, and the space is beautified by works of fine arts carefully selected by the owner of Kazurasei with his unique sense of beauty.
We offer various antiques collected both in the East and the West, such as Chinese furniture from Qing Dynasty, attractive artifacts from every corner of Asia and furthermore stunning art works from Europe, and we also propose unusual and exquisite coordination of them.
We are happy if you enjoy browsing our gallery at your pleasure and find a new encounter.
History
The Distant Path over 150 Years at the Place of Gion Holding Elegance of Kyoto.The Perpetual Tradition Is Now for the Beauty of Women.
1865

The founder, Eikichi Shimofuri, established a shop named "Shimaya" at Kyogoku Rokkaku Sagaru in Nakagyo ward of Kyoto. He started self-manufacture and sales of Japanese traditional hairstyle wigs, supplementary hairs, hair ornaments and other various goods while doing a theater house.

1882

The second generation, Seizaburo Shimofuri, moved the shop to Otabi-cho on Shijyo-street. He set up the self-manufacture and Sales Department independently, and closed the theater house. He changed the name of shop to "Kazurasei." Kazurasei was designated as a purveyor of hair items to the Kyoto Imperial Palace and the court ladies, and since then, had been taking charged with it for so long.

1936

Relocated from Otabi-cho to Gionmachi, which is the current address, on Shijyo-street.

1962

Toshiya Shimofuri, who was given the name of Busshi (Buddhist statue sculptor) "Choun" from Yakushiji Temple, became the fourth generation of owner.

1972

Established Kazurasei Urushi Workshop (manufacturing Japanese lacquer corms, hairpins and other hair ornaments) in Kaga city, Ishikawa prefecture.

1974

Established Camellia Oil Pressing Factory in Goto, Nagasaki prefecture.

1984

Started European Antiques and Oriental Art Department which was the fourth generation, Toshiya Shimofuri, had been working on for many years.

1990

Contracted for product development and producing of Japanese lacquer items from one of the world's premier jewelry brands in New York.

2000

Opened "Kazurasei Teramachi Shop" specializing European Antiques and Oriental Art.

2003

Launched original hair and skin care products using camellia oil.

2007

Reopened Gion Main Shop, Head Office, after renovation.

2010

Opened "Rokkaku Shop" at Fuyacho in Nakagyo Ward.
Shops
祇園本店 | Gion Main Shop
Address

285 Kitagawa, Gionmachi, Higashiyama-ku, Kyoto, 605-0073 Japan

Shop Hours

10:00-19:00 (Closed:Wednesday)

Tel

+81-(0)75-561-0672

Fax

+81-(0)75-531-6283

E-mail

Please make inquiries using the contact form.

Access

1 min walk from Gion Bus Stop
5 min walk from Keihan Railway Gion-shijyo Station
8 min walk from Hankyu Railway Kawaramachi Station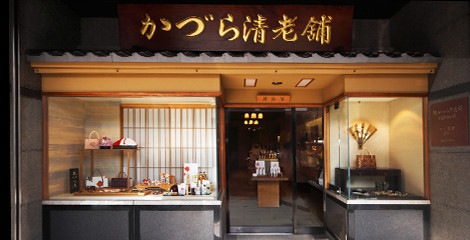 麩屋町六角店 | Rokkaku Shop
Address

98, Yaoya-cho, Rokkaku Fuya-cho Higashi-iru, Nakagyo-ku, Kyoto, 604-8072 Japan

Shop Hours

10:30-18:30 (Closed:Tuesday)

Tel

+81-(0)75-241-2525

Fax

+81-(0)75-241-2552

E-mail

Please make inquiries using the contact form.

Access

10 min walk from Keihan Railway Sanjyo Station
10 min walk from Hankyu Railway Kawaramachi Station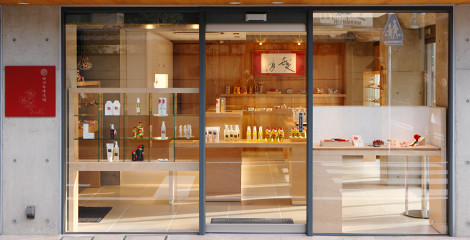 寺町店
( 東洋・西洋 骨董専門 )


Teramachi Shop

( European Antiques and Oriental Art )
Address

638-1 Shimogoryomae-cho, Nakagyo-kui, Kyoto, 604-0995 Japan Shop

Shop Hours

10:30-18:30 (Closed:Wednesday [We will be closed in the year end and New Year's holiday.])

Tel

+81-(0)75-253-2525

Fax

+81-(0)75-253-2552

E-mail

Please make inquiries using the contact form.

Access

3 min walk from Kyoto City Bus Kawaramachi-marutamachi Stop
5 min walk from Keihan Railway Jingu-marutamachi Station
8 min walk from Kyoto Subway Karasuma Line Marutamachi Station

Official Site